Standard Robotic Welding Cells
Intuitive Communication Interfaces, Top-level of Robot Hardware & Software Modules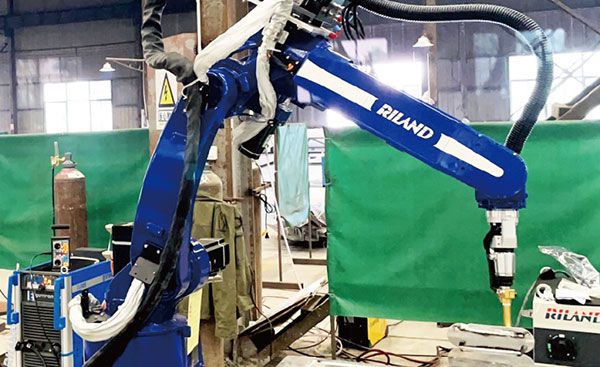 Features
Exceptional arc stability and constant welding parameters, resulting in reliable and consistent weld quality;
Wire feeder is equipped with European style welding torch connector as default, and Japanese type welding torch connector is optional;
Available in options of analog cables that are compatible with standard connectors from world's renowned robotic welding equipment brands such as ABB, FANUC and YASKAWA;
High flexibility of communication, accessible interface modules include Analog, DeviceNet and CAN Open interfaces;
Easily and precisely finding the welding location, without the need for additional touch sensor power source;
Accurate real-time feedback on welding current and voltage, adjustable filter parameter, and through-arc seam tracking (TAST) available;
Supporting push-pull robotic welding torch, enabling the torque and speed to be fully synchronized with wire feeder for precise wire feeding;
---
Advantages of RWAS Robotic Arc Welding Package
Fast speed
Newly developed robotic welding arm is featured by more lightweight structure. Japanese Teijin RV reducer is adopted to ensure high transmission accuracy, and the practice running speed is improved by approximately 30% when compared with those robotic welding systems from domestic brands.
High stability
A novel robot controller is based on vibration suppression algorithm and coupled with integrated servo drive system that greatly improves the accuracy and speed, providing high stability and high-quality welding results.
Ultra-low spatter
RILAND's in-house developed digital MAG/MIG welders are utilized to achieve an optimal solution of ultra-low-spatter robotic welding process.
---
Welding Robot, MAG/MIG Welder and Communication Module
Robotic Welder
Communication Module
Through-Arc Seam Tracking (TAST)
Analog
DeviceNet
CAN Open
CLOOS QINTRON
●
●
●
●
TITANS D/DP
●
●
●
●
TITANS DF
●
●
●
●
Welding Solutions
Industrial Sectors of RWAS Robotic Arc Welding Package
Due to its premium quality and high cost effectiveness, our RWAS robotic arc welding packages have extensive applications across a multitude of industry sectors, including oil pipeline, chemical, automobile, shipbuilding, boiler, power construction, nuclear power, aerospace, military, bridge construction, etc.
Electric power industry

Chemical industry

Shipbuilding industry

Construction industry

Electric power industry

Storage tank industry
Specifications of Arc Welding Robot
---
Digital MAG/MIG Welders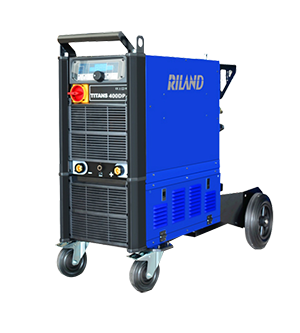 TITANS DP Series
Digital Pulse MAG/MIG Welder
Several options of welding processes, high welding efficiency;
Double Pulse MIG welding function, superior welding quality;
Deeper penetration with reliable root fusion;
Ideal for welding aluminum alloy and medium-thick carbon steel plates;
Built-in welding expert database, abundant parameter combinations;
Precise control of droplet transfer, achieving stable welding quality without spatter generation;
Modular design and robust construction, flexible and easy to use;
Guaranteeing communication compatible with all common welding robot brands;
Model
TITANS 400DP
TITANS 500DP
TITANS 600DP
Welding current range
30A-400A
30A-500A
Duty cycle
100%
100%
60%
100%
60%
40%
400A
400A
500A
400A
500A
600A
Input voltage
Three phase 380V±15%
Three phase 380V±15%
Three phase 380V±15%
Protection grade
IP23
IP23
IP23
Insulation class
Class H
Class H
Class H
---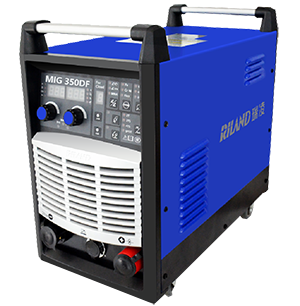 MIG DF Series
Digital MAG/MIG Welder
Fully digital gas shielded welding machine, containing multiple functions;
Multi-process, suitable for working with solid wires and flux-cored wires;
Built-in welding expert database, convenient control with adjustment knob;
Storing and retrieving of welding parameters, wire detecting and retracting functions;
Designed with interface for group control, realizing intelligent workshop management;
Communication guarantees the compatibility with all common welding robot brands;
| | | |
| --- | --- | --- |
| Model | MIG 350DF | MIG 500DF |
| Welding current range | 30A-350A | 30A-500A |
| Duty cycle | 60% | 60% |
| Input voltage | Three phase 380V±15% | Three phase 380V±15% |
| Protection grade | IP23 | IP23 |
| Insulation class | Class H | Class H |
RILAND started its business in 2003 with the goal to design, manufacture and supply inverter welding and cutting equipment, including inverter MMA welders, inverter TIG welders, inverter MIG welders, air inverter plasma cutters, robotic welding systems, automatic welding carriages, digital intelligent welding systems, welding & cutting accessories and welding safety equipment. At RILAND, we do not consider ourselves as only a welding equipment manufacturer, but also position ourselves as an innovative technological force. With many years of development in the welding industry, RILAND currently has 10 holding subsidiaries, and strive to continue to progress steadily towards the next growth target of becoming international first-class comprehensive enterprise of welding equipment.