Stainless Steel / Aluminum Alloy Welding Solution
TITANS 400/500/600DP + Welding Robot
Pulse welding: versatile for welding a variety of materials, good welding seam formation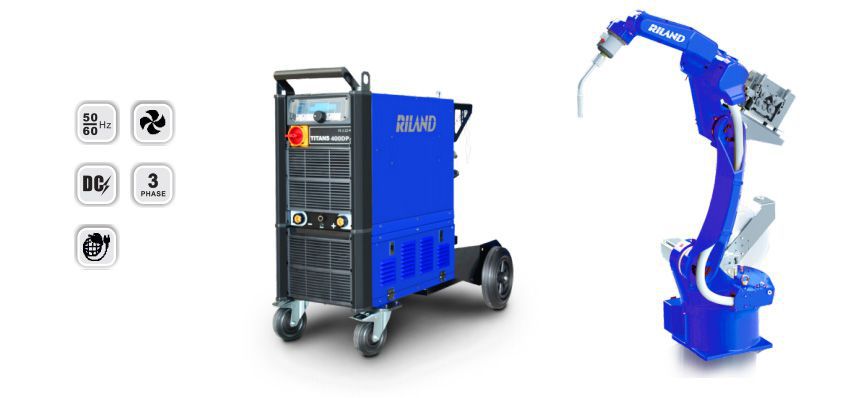 Applications
Welding of plate heat exchanger for automotive industry
Industrial Sectors of RWAS Robotic Arc Welding Package
Due to its premium quality and high cost effectiveness, our RWAS robotic arc welding packages have extensive applications across a multitude of industry sectors, including oil pipeline, chemical, automobile, shipbuilding, boiler, power construction, nuclear power, aerospace, military, bridge construction, etc.
Electric power industry

Chemical industry

Shipbuilding industry

Construction industry

Electric power industry

Storage tank industry
Specifications of Arc Welding Robot
Model
ER-1450-H
ER12-1510
ER20-1780
ER20/10-2000-HI
Payload
6kg
12kg
20kg
10kg
Reach
1450mm
1510mm
1780mm
2000mm
Repeatability
±0.08mm
±0.05mm
±0.06mm
±0.07mm
Mass
155kg
170kg
245kg
248kg
Working range
Axis 1
±170°
±170°
±180°
±180°
Axis 2
-60°/+160°
-60°/+160°
-95°/+160°
-95°/+160°
Axis 3
-155°/+85°
-165°/+88°
-170°/+80°
-170°/+80°
Axis 4
±170°
±180°
±180°
±180°
Axis 5
±180°
±140°
±140°
±140°
Axis 6
±360°
±360°
±360°
±360°
Max. speed
Axis 1
180°/S
190°/S
185°/S
185°/S
Axis 2
180°/S
180°/S
185°/S
185°/S
Axis 3
180°/S
190°/S
190°/S
190°/S
Axis 4
440°/S
370°/S
355°/S
355°/S
Axis 5
400°/S
375°/S
360°/S
360°/S
Axis 6
600°/S
600°/S
585°/S
290°/S
IP rating
IP54
Number of axes
6 axis
Installation method
Floor
RILAND started its business in 2003 with the goal to design, manufacture and supply inverter welding and cutting equipment, including inverter MMA welders, inverter TIG welders, inverter MIG welders, air inverter plasma cutters, robotic welding systems, automatic welding carriages, digital intelligent welding systems, welding & cutting accessories and welding safety equipment. At RILAND, we do not consider ourselves as only a welding equipment manufacturer, but also position ourselves as an innovative technological force. With many years of development in the welding industry, RILAND currently has 10 holding subsidiaries, and strive to continue to progress steadily towards the next growth target of becoming international first-class comprehensive enterprise of welding equipment.
Read More
---