Welding Helmets
---
Provide reliable protection from radiation and spatter
Digital auto-darkening welding helmet adopts our independently developed MCU control chip and high-speed darkening software, greatly improving dimming response speed and anti-interference ability.
Features
In full conformity with American ANSI Z887.1 standard, European CE standard, and national standard prescribed by China National Quality Supervision and Testing Center of Labor Protection Products;
Adopting RILAND's independently developed MCU control chip;
Digital control for gentle handling, resulting quick and reliable dimming response;
Built-in lithium batteries eliminate the need for changing battery, significantly lowering the cost;
High-frequency interference filter helps efficiently block out sunlight interference;
High integration of components, ensuring high reliability;
Full-coverage shell protects the eyes and face from UV/IR radiation and spatter;
Great headgear comfort, without slag adhering;
---
Details


Independently developed MCU control chip

The MCU control chip contributes in shortening the signal transmission time and minimizing interference. With booster pump circuit technology that uses digital algorithm, the LCD lens darkens to a maximum shade in milliseconds when the arc is struck. The integrated battery circuitry enables reliable performance of the battery.


Fast response time

Our newly engineered software algorithm enables arc sensor more sensitive, the lens darken reaction time is approximately 0.1ms.


Built-in lithium battery

3.7V/200mA rechargeable lithium polymer batteries are used. The electric power can be obtained from the welding arc light or charged by sunlight.


High cost effectiveness

Integrated design greatly reduces pieces of components and saves cost, enabling welding operators to get high quality welding helmets at a competitive price.


Advanced digital control

Technology rivals that of world's renowned brands, but less expensive than the equivalent performance welding helmets.
LCD lens and adjustable headband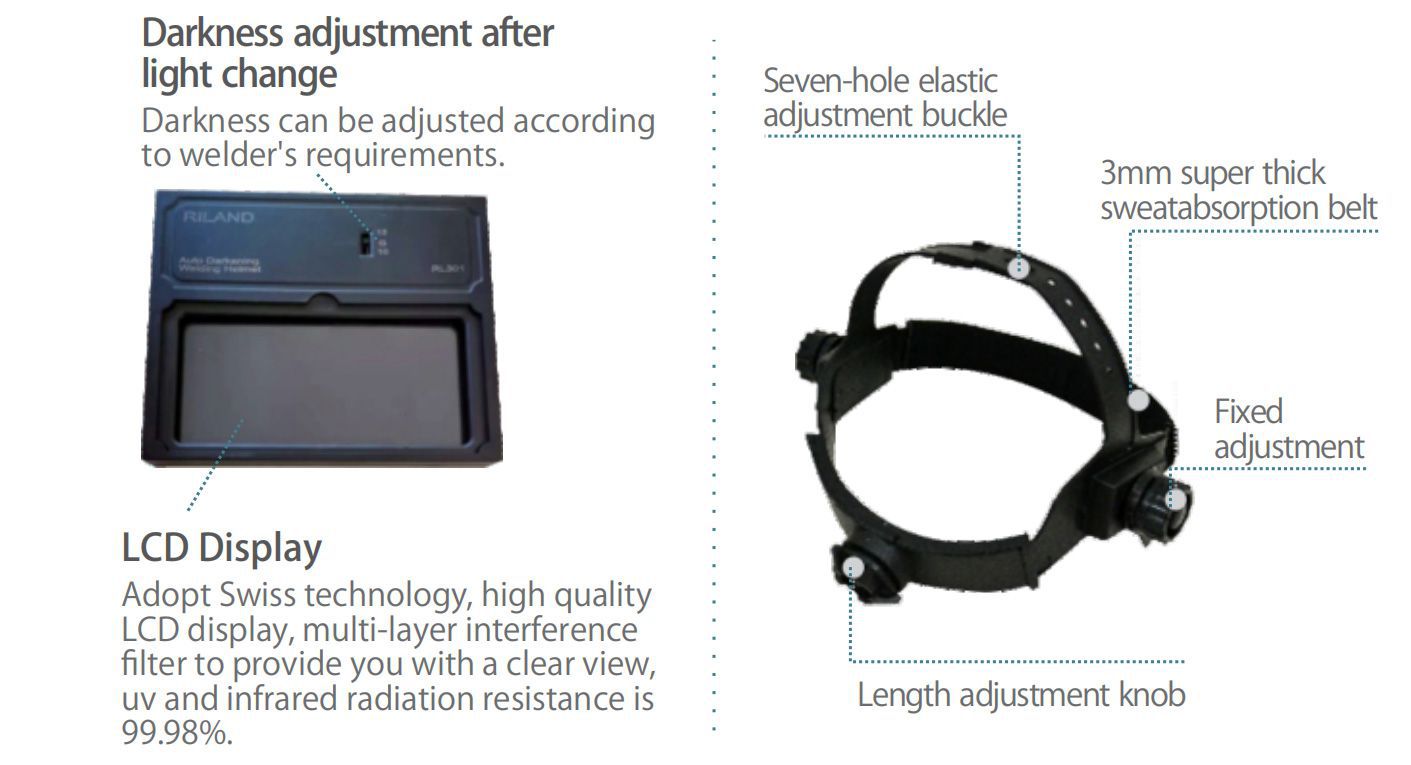 Easy and quick replacing of protective sheet

Specifications
| | |
| --- | --- |
| Model | RL301 |
| Size of darkening filter (mm) | 110×90×8 |
| Observation window viewing area (mm) | 92×42 |
| Light state | Shade 4 |
| Shade range | 4/10/13 |
| Switch time | 0.1ms |
| Response time | 0.1ms |
| UV/IR protection | DIN15< 0.0003%< 0.01% |
| Arc sensors | 2 |
| Power source | Lithium battery (3.7V/200mA) |
| Working temperature | -15℃-65℃ |
| Grind mode | Yes |
| Weight | 480g |
| Certificates | CE,ANSI,EN175,EN3 |
| Warranty | 1 year |
RILAND started its business in 2003 with the goal to design, manufacture and supply inverter welding and cutting equipment, including inverter MMA welders, inverter TIG welders, inverter MIG welders, air inverter plasma cutters, robotic welding systems, automatic welding carriages, digital intelligent welding systems, welding & cutting accessories and welding safety equipment. At RILAND, we do not consider ourselves as only a welding equipment manufacturer, but also position ourselves as an innovative technological force. With many years of development in the welding industry, RILAND currently has 10 holding subsidiaries, and strive to continue to progress steadily towards the next growth target of becoming international first-class comprehensive enterprise of welding equipment.
Read More
---
Related Products
Welding Wire

RILAND welding wire includes carbon steel welding wire, stainless steel welding wire, aluminum alloy welding wire and flux-cored welding wire.

Welding Rod

Our welding rod products are available in stainless steel rod, cast iron rod and heat-resistant welding rod.